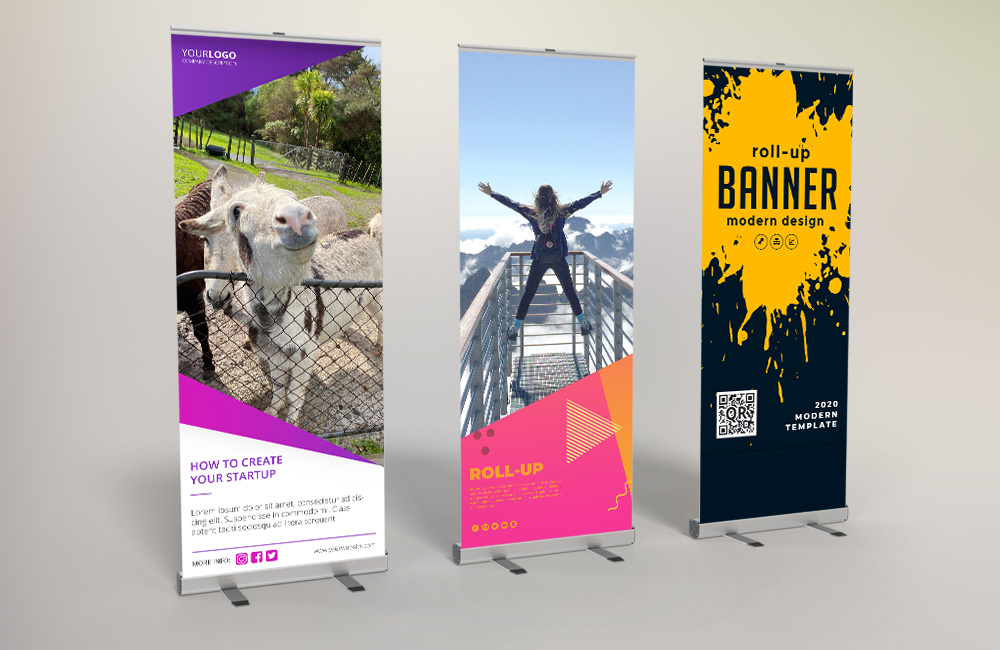 Pull-up banners are a cost-effective and impactful promotional tool, suitable for amplifying your presence at any kind of event. These large banners are great for catching the eye of passer-by, while being easily transportable, quick to set up and affordable.
Of course, like any promotional material, you still need to ensure that what's printed on your pull-up banner is well-designed to communicate your intended message, and ultimately drive your marketing goals.
In this article, we'll break down some simple tips for designing an eye-catching, communicative pull-up banner.
What is a pull up banner?
A pull-up banner, sometimes called a retractable banner, consists of the fabric banner itself, and connected hardware pieces. When you receive your pull-up banner, you'll find the banner is coiled inside the metal base. You can then "pull up" the banner, unravelling it from inside the base, and prop it up with another metal strut included with the kit.
Pop-up banners are tall, free-standing banners that do not require additional equipment to set up. They are available in a range of sizes to suit any purpose. Most pull-up banners are two metres (200cm) tall, but they can also be produced in other sizes such as 160cm.
These are presentation pieces, which are commonly employed at events like trade shows and exhibitions. However, some businesses may also use them as merchandising material, or to amplify their presence at a marketplace. Pull-up banners are especially useful for businesses that need to set up and take down the banner frequently, such as if they're travelling to lots of events, because they're easy to set up.
Pull-up, pop-up, roll-up, or retractable - what's the difference?
There's a huge range of different terms for similar products when it comes to printed signage. Some companies may have their own unique terms they use, however generally speaking pull-up, pop-up, roll-up or retractable banners are all the same thing.
In some cases, many of these terms could also refer to an X-banner. X-banners are similar to pull-up banners, but instead of coiling inside a base, the banner is a separate piece of fabric that must be manually set up in a x-shaped frame. X-banners tend to be more lightweight, so may be prone to falling over easily.
How much does a pull-up banner cost?
Pull-up banners can vary in price according to the size and quality of both the printing and the hardware. When you buy a pull-up banner, you get more than just the printed material — you also receive the metal base it coils inside.
Premium banners will cost more, however you will receive a higher quality base. These bases tend to be more stable and hard-wearing, meaning the banners can survive better for longer and may even be suited to use outdoors in good weather.
A pull-up banner from HappyPrinting starts at just $142 for the smallest, most basic option in a single item print run. Our banners can be printed and delivered to you in just three working days, no matter where you are in the country.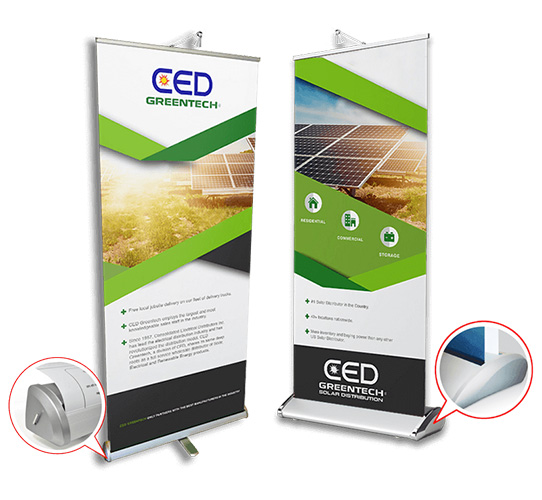 What size banner should you choose?
At HappyPrinting, pull-up banners come in three different sizes:
Small: 60 x 160 cm

Medium: 85 x 200 cm

Large: 120 x 200 cm
Each size is suitable for different uses. Of the three sizes, only the medium size is available with a premium banner cassette. So, if you're seeking longevity, we'd first recommend the medium size with a premium base.
That said, the basic base is still suitable for repeated use and will likely see you through a season of trade shows, especially with proper care. The basic cassette has the advantage of being available in small or large, as well medium.
A large banner will stand out against your competitors', and offers more visual space to work with in your design. Meanwhile a small banner may be preferable if you're exhibiting at events with limited space, or merchandising within your own retail space.
Weight may be another factor to consider. A medium sized base typically weighs about 2.5 kg, while small and large sizes will weigh only a little more or less either side of this.
Designing your pull-up banner
No matter the size or material of your pull-up banner, the design is crucial. Your design needs to draw the eye of passer-bys, while being aesthetically pleasing and communicating your intended message.
Here are a few ways you can go about designing your pull-up banner:
1. Hire a designer to design you pull-up banner
Of course, the best way to get an effective design is to approach a professional designer. A designer can work with you to identify your brand guidelines and create a pull-up banner that ticks all the boxes. You might consider asking a designer to create a pull-up banner template that can be easily updated with new information for later events.
At HappyPrinting, we offer a design service of our own. If you're feeling stuck, get in touch with us and we can put you in touch with our designers to get your pull-up banners created and printed as soon as possible.
2. Design your pull-up banner yourself
While many of us would like to hire a designer, there's not always room in the budget to outsource creative work. For example, if you're a start-up marketing your new product, you might simply lack the capital for a new design and instead need to put in a little DIY.
Try using Canva, a free-to-use online design tool. Not only is Canva easy to use and entirely browser-based, it includes a library of imagery you can use for free or a small price to assemble a design quickly. 
If you have access to them, Adobe Photoshop and InDesign are the industry standard applications for designers. While these tools are more powerful, they can be a little harder to get a handle on without experience.
Whichever platform you choose to use, be sure to work within the correct dimensions for the banner you want. When creating a new canvas, change your units to "cm" and enter the appropriate dimensions for your pull-up banner. This way, you can design a true-to-scale banner that won't suffer from low quality imagery when printed.
3. Make use of HappyPrinting's pull-up banner designer tool
Lastly, the best and easiest way to make up pull-up banner design is right here on the HappyPrinting website. 
Just head on over to the Pull-up Banner product page. Select your specifications, then scroll down and click "Create Design". From there, you can choose from a number of pre-designed templates. 
It's as simple as choosing your colours, uploading your preferred images and typing in the text you want. There's no need to fuss around with preparing a canvas in an editing program.
Better still, once you're done, you can preview the finished product. Once you're happy with it, just click submit and then you're ready to order!
With your designing and printing tools all in one place, making a pull-up banner has never been easier. You can also browse our full range of printing templates here.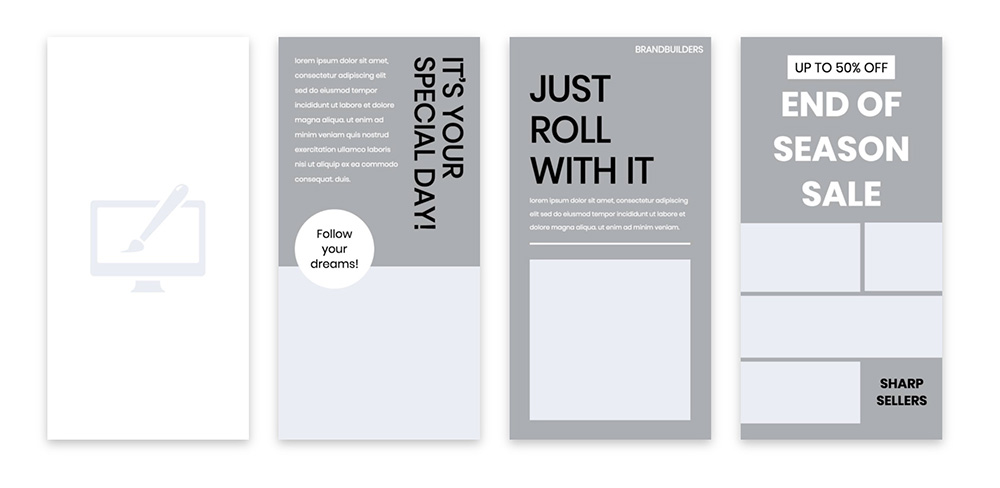 8 tips for designing a professional pull-up banner
Whether you're designing with HappyPrinting or elsewhere, these tips can help you make a more effective pull-up banner design.
1. Plan what information you need to communicate
Before you start designing, begin by writing down what you're trying to communicate with your banner. For example, if you're creating a banner for a specific promotion, such as a 50% Off Sale, then you might want to include:
The words "50% Off Sale"

Attractive product images.

Your company logo.

The dates of the sale.

A reference to relevant terms and conditions.
The same idea can be applied to any type of business of promotion. Just think about what you're promoting, who you're promoting it to and what information is most pertinent. 
2. Keep your logo at the top of your pull-up banner
Your banner should be recognisably yours. Overall branding plays a big part in this, but one of the easiest, smallest things you can do to build brand recognition is place your logo at the top of the banner.
Ideally, it will be big enough to be recognised from a distance, but won't take up so much visual space that it overshadows the actual message.
3. Design your pull-up banner as you would read it
Anyone reading your banner for the first time is going to start in the top left corner, and work left-to-right, then top-to-bottom. 
Information on your banner should be displayed following this idea. So, below your logo, you should feature your most important message. This might be a slogan, a unique sales point, or a specific promotion.
Your most relevant information should be at the top, and your least relevant at the bottom. Remembering that the idea behind a pull-up banner is to draw people in, you'd therefore want an intriguing message and eye catching imagery to take priority, while details like your website or contact number should be left at the bottom.
4. Design your pull-up banner within your brand guidelines
Your logo is one thing, but your brand is the bigger picture. It can be tempting to go over the top in a huge bid for attention, but your pull-up banner design should fit within the existing parameters of your brand.
You want your banner to be recognisably you. That way, when a customer sees another promotion from you, whether that's a TV ad, a web banner or a piece of merchandise, they'll remember who you are and grow an affinity for your brand.
The simplest way to incorporate branding is to use consistent fonts across all your marketing, and have a few key colours you work with.
5. Don't be afraid of colour on your pull-up banner
While it's important to stick to your brand guidelines, you do still want to catch peoples' eye. If your brand colours are white and blue, there's a decent chance this isn't going to stand out against a crowd.
One of the best ways to add dynamic colour to your design without straying too far from your brand identity is to use bold photographic imagery. While the majority of your banner may be neutral colours, a vibrant photograph featuring oranges and yellows can really make the whole thing pop.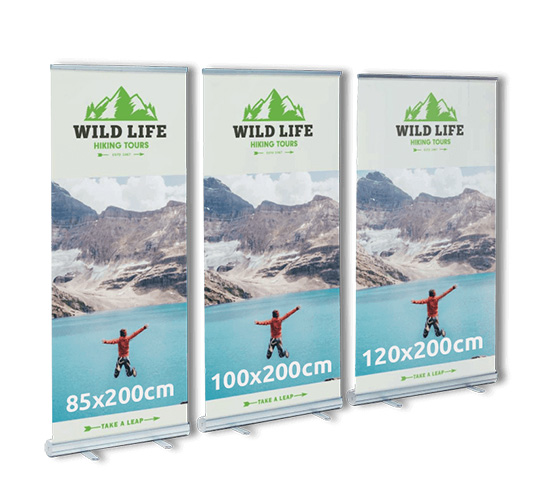 6. Use high quality imagery for your pull-up banner
When working with images, it's important to make sure they're high resolution. We can often get away with lower resolution images online, because they can appear smaller. However, with pull-up banners, the image must be blown-up large. 
When you use a low resolution, this causes the image to blur and pixelate. Ideally, photographs incorporated in a banner design will be 300dpi resolution, saved as in a lossless format like RAW, and 3600 x 5400 pixels in size.
7. Be short and snappy on your pull-up banner
A banner may be fairly large compared to a computer screen, but it has to be viewed from a distance. This means your text needs to be big enough to read from afar, and with big text, you lose a lot of visual space.
That's why it's crucial you keep the copy (text) on your banner as short and snappy as possible. Too much text can quickly cause a banner to appear cluttered and busy, and any impact from your imagery will be immediately lost.
Printing and caring for your pull-up banner
Unfortunately, there's no way to DIY your pull-up banner at home. Instead, it's crucial you turn to a professional printer to have the banner printed and assembled. The good news is that getting your pull-up banner printed with HappyPrinting is as easy as can be.
Simply head over to our pull-up banner product page and follow the steps on-screen to choose your specifications and upload or create your design.
Once your order is placed, we'll look over your files and proof-read for any errors or any signs that the banner may not print correctly.
Then, once all files are approved we'll start production. You can expect your pull-up banner to arrive in three working days if the files are approved before 12:00pm. If you're in a rush, don't hesitate to contact us and we'll see what we can do to help.
Caring for your pull-up banner
To ensure the longevity of your pull-up banner, we recommend only using it for indoor use. That said, they may be used temporarily in dry conditions with minimal wind. 
In general, the best way to look after your banner is to avoid wet or windy weather. Wind can cause the banner to be knocked over, while water may cause rust or affect the laminate of the banner.

If you have any extra questions about pull-up banners, get in touch with HappyPrinting and we'll be happy to answer any queries.