Networking is one of the secret keys to fantastic business growth. Sometimes all it takes to push your business to the next level is knowing the right people and leaving the right impression. This is why your business card is so crucial.
A business card is a lot more than just a piece of card with your name on it. It's the first port of call between a potential client or partner when they want to contact you. Your business card is what you leave new contacts with as a reminder of who you are and what you can offer. So it needs to represent you as best as it can.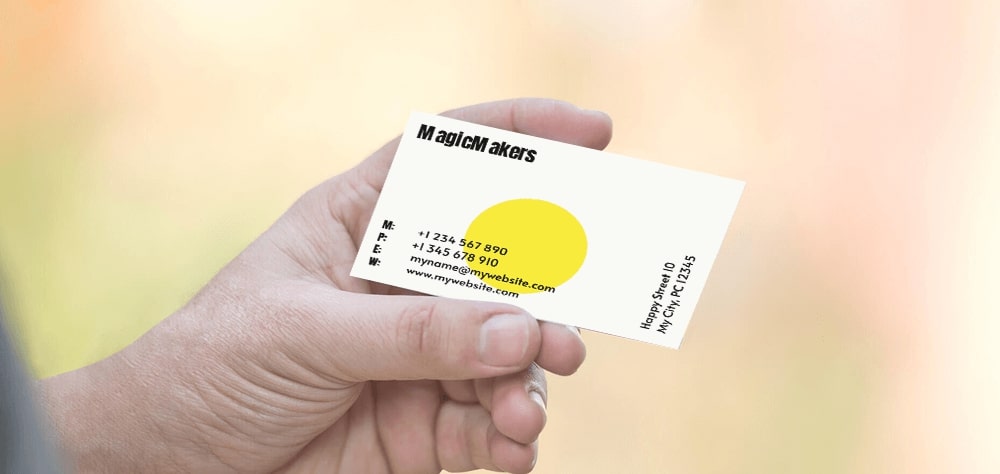 A huge 72 percent of people judge a company or person based on the quality of their business card, according to the Statistic Brain Research Institute, and 39 percent would choose not to do business with someone who had a "cheap-looking" card. So, putting the effort in to design a business card that represents you well is crucial.
Here are our tips to help you design a business card that leaves a lasting impression.  
Happy tip #1 

Design your business cards for your target audience
Who are you giving your business cards to? And who are you representing?
The tone of your business card should reflect the industry you're marketing to. If you're a creative freelancer building your name in the advertising agency, for example, it's imperative you have a business card that showcases your talent through quick one-liners and eye-catching aesthetics. You'll also want to feature your name or trading name as clearly as possible.
Meanwhile, if you're representing a new startup selling a groundbreaking product, you'll probably want that product to be the core feature of your card. You might feature the product name as clearly as possible, with your own name as a footnote.
Happy tip #2: Keep your business card design professional
While it's important to stand out, there are certain limitations when designing your business card. After all, you want to be remembered for the right reasons. Follow these tips for professional business card design:
Design to the right dimensions. Standard business cards are 90mm wide and 55mm tall, just slightly bigger than your average credit card. Design within this ratio to ensure all your information fits onto the card nicely.

Use standard sizing. Some people might try to design square or round business cards. This is not a good idea, as business cards are sized to fit nicely in a pocket or wallet. A differently shaped card might stand out, but not for the right reasons.

Choose straight sides. While rounded corners may be appropriate in some industries, straight edges tend to appear more professional.

Limit yourself to two typefaces. A typeface, or font, can set the tone for your business card. Most designers will avoid using more than one serif font and one sans-serif font. (A serif font has feet on the characters, such as Times New Roman, whereas a sans serif font like Helvetica does not.)

Use the right font sizes. Just like you shouldn't use too many typefaces, you should try to avoid too many different sizes. You should have a heading line in 11pt font, and body text in 8pt font.

Keep it simple. Don't overload your business card with information and words. The less information the better, so long as they still know who you are, why they have your card, and how to contact you.

Stick to a simple colour palette. Colour is important for catching the eye, but it needs to be used carefully. The colours themselves aren't so important, but avoid using clashing combinations or too many different colours. 

Don't forget the back. Designing the back of your card ensures that it's recognisable no matter what side it's viewed from. Leaving the back blank can look unfinished.

Use a quality card stock and a quality printer. You don't need to spend a fortune on business cards, but it's important that your cards look valuable. A thicker 400gsm card stock will be sturdier and more impressive than thinner stock, and quality printing will show that you're a discerning businessperson. 
Happy tip #3: Choose the best colours for your business card
There are a lot of factors that should go into choosing the colours for your business card. 
First of all, your brand. Whether you're working as a sole trader or a larger company, having an identifiable and consistent brand is crucial. The colours on your business card should match those on your website, product packaging or other business collateral. Consistent branding immediately communicates something about your brand and helps others recognise it.
If you don't yet have a brand to work with, consider these professional business card colours:
White. This is a blank canvas, perfect for adding your unique twist to. It's easy on the eye and looks clean and professional.

Black. When used heavily, black can imply exclusivity and luxury. Pair with metallic tones like copper, gold and silver for extra wow-factor.

Red. Red can convey excitement and passion. It can help your business card stand out, but should be used sparingly.

Pink. Soft pink is a great choice for a business card if you're marketing to women or children. Stronger pink can also be used to make a bold statement.

Yellow. A vibrant yellow can pack a real punch. It's not a common colour in professional situations, but used well it can leave a strong impression.

Blue. Blue is a very common colour for branding. It implies trustworthiness, honesty and calm. It's a very reliable colour but may not stand out among a crowd.

Green. Of course, green is the colour of sustainability and nature, but can also represent wealth to some people. This is a good choice for social enterprises.
Balancing the colours
Secondly, you might think about how to weigh the different colours of your brand. For example, your brand may use red, white and a light grey as its core colours. It's up to you to determine how these colours appear on the business card.
Bright colours are often best used for emphasis and impact. Typing your name in red or using a red logo will immediately draw someone's eye to that information. Too much of these bright colours can be overwhelming, however.
Meanwhile, neutral colours like white or grey are useful for backgrounds because they don't clash or make the design look busy. 
Balancing your colours is more important than the colours themselves, as it helps to make the card readable and aesthetically pleasing. 
Happy tip #4: Put the right information on your business card
Business cards are small. That means you have only a little space to communicate a lot of information. You don't want any of that information to get lost, or you probably won't be getting any business calls.
Here's what to include on your business card:
Your company name and/or logo.

Your first and last name.

Your role within the company, or your services if you're a sole trader.

No more than two phone numbers (mobile and office).

An email address.

A website URL.
If you're designing for a physical business, such as a bricks-and-mortar shop, doggie daycare or hair salon, it's also a good idea to include your physical address.
Additionally, you might choose to include a memorable slogan or motto. This should be a short sentence, no more than eight words, and shouldn't take up too much space on the card. Ideally, you might place the slogan on the back of the card with your logo. 
Happy tip #5: Make your business card stand out
Like with anything in life, there is no surefire way to stand out for the right reasons. The best approach is to be uniquely you: add your own personal flair to your design.
Some ideas include:
Add raised text or printing to your business card.

Feature a high-gloss photograph on one side of your card.

Create a folding design that opens to a nice surprise.

Add a QR code that leads to exclusive deals or content.

Design fold lines that turn the card into a piece of origami.

Make it super minimal with embossed white-on-white printing.

Hire an illustrator to draw your portrait for the business card.
One easy way to design a great business card is to start with one of the many business card templates right here on the HappyPrinting website. Then, using our online design tool, incorporate your own personal images, slogans or creative designs.
For any ideas you might have that aren't included in HappyPrinting's simple online ordering, you can always get in touch with our team of expert printers for hands-on advice. 
Happy tip #6: Get your business card ordering right
When you're ordering anything printed, you need to be confident about what you're getting. That's why we make printing your business cards online super easy.
First, think about how many business cards you need. Data from Statistic Brain Research Institute suggests businesses can see a 2.5 percent increase in sales for every 2,000 business cards they distribute.
Following that logic, think about what your growth goals are and how many business cards you can reasonably give out in a year.
If you're just starting out, you might like to begin with 50 cards and reorder when you run out. For larger companies, you may benefit from the economy of scale by ordering 2,000 cards at once.
Cost should also play an important role in ordering. With our recommended specifications, 50 business cards come to $1 per card, or $50 total. However, ordering 100 costs just $0.56 per card. A whopping 10,000 cards come in at just $0.0494 per card. The more you order, the cheaper business cards get, due to the economy of scale. 
Happy designing; HappyPrinting! 
Still having trouble? HappyPrinting is here to save the day! Contact us if you have any questions about printing or need help with your design. We're always happy to help.